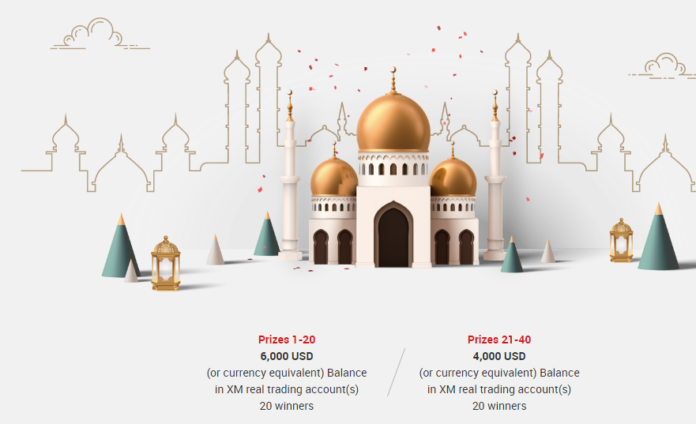 XM, The regulated forex broker. Recently lounge its Ramadan promotion for The Muslim new and existing clients. You will get 30% deposit bonus upto $1000. Also 40 lucky draw prizes.
Register for our special Ramadan promotion and trade Forex, Gold or Silver from 12 April to 12 May 2021 for a chance to win 1 of the 40 generous Lucky Draw prizes totaling 200,000 USD.
Promotions and bonuses
Promotions and bonuses in the forex (foreign exchange) market can vary widely between different brokers and change over time. These promotions are often used by brokers to attract new traders or retain existing ones. Common types of forex promotions and bonuses include:
Welcome Bonuses: These are offered to new traders when they open an account with a broker. They often come in the form of a percentage bonus on the initial deposit.
Deposit Bonuses: Brokers may offer bonuses based on the amount of money deposited into the trading account. For example, a broker might offer a 50% bonus on a $1,000 deposit, giving the trader an additional $500 to trade with.
No-Deposit Bonuses: Some brokers offer a small amount of trading capital to new clients without requiring them to make a deposit. This is a risk-free way to start trading, but there are often strict conditions attached to withdrawing profits.
Cashback Rebates: Traders can receive a percentage of their trading costs or spreads back as cashback. This is a way to lower the overall cost of trading.
Trading Contests: Some brokers organize trading competitions with cash prizes for the winners. These contests often require traders to achieve certain trading objectives or generate the highest returns.
VIP or Loyalty Programs: Brokers may have tiered loyalty programs where traders can earn benefits such as lower spreads, dedicated account managers, or priority customer support based on their trading volume.
Refer-a-Friend Programs: Traders can earn bonuses by referring new clients to the broker. The referred friend may also receive a bonus.
Seasonal Promotions: Brokers sometimes run special promotions during holidays or specific times of the year, such as Black Friday or New Year's.
It's essential to be cautious when considering forex promotions. Read the terms and conditions carefully, as they often come with requirements and restrictions that can affect your ability to withdraw funds. Additionally, ensure you choose a reputable and regulated broker to ensure the safety of your funds and the fairness of promotions. Always do your due diligence and research before participating in any forex promotion.
In addition, all your consecutive deposits during this period will be eligible for 30% Bonus until the bonus amount of 1,000 USD (or currency equivalent) is reached.
Sign Up: Click Here
2. Deposit a minimum of 400 USD (or currency equivalent) in your validated XM real trading account(s)
3. Trade at least 4 standard lots (or 400 micro lots) in Forex or Spot Metals during the promotional period
To qualify for one of the prizes you need to fulfill the Lucky Draw requirements.
Related Articles:
Broker Review: XM