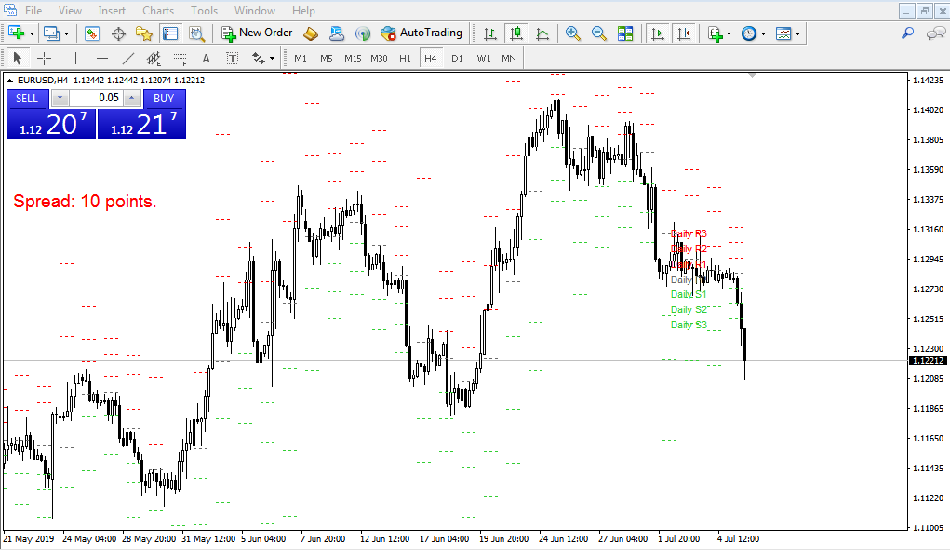 MetaTrader 4, also known as MT4, is an electronic trading platform widely used by online retail foreign exchange speculative traders. It was developed by Meta Quotes Software and released in 2005. The software is licensed to foreign exchange brokers who provide the software to their clients.
The software consists of both a client and server component. The server component is run by the broker and the client software is provided to the broker's customers, who use it to see live streaming prices and charts, to place orders, and to manage their account.
The client is a Microsoft Windows-based application that became popular mainly due to the ability for end users to write their own trading scripts and robots that could automate trading. In 2010, MetaQuotes released a successor, MetaTrader 5.
However, uptake was slow and as of April 2013 most brokers still used MT4 platform. While there is no official MetaTrader 4 version available for Mac OS, some brokers provide their own custom developed MT4 variants for Mac OS.
MetaTrader 5 (mt5 platform)
MetaTrader 5 (MT5) is a popular trading platform used by traders and investors in the financial markets, including forex, stocks, commodities, and more. It is developed by MetaQuotes Software Corp. and is the successor to the widely used MetaTrader 4 (MT4) platform. MT5 offers several features and improvements over MT4, making it a preferred choice for many traders. Here are some key features and aspects of the MetaTrader 5 platform:
Asset Classes: MT5 supports trading in a wide range of financial instruments, including forex, stocks, commodities, cryptocurrencies, and more. This makes it versatile for traders interested in multiple markets.
Timeframes: MT5 offers various timeframes for chart analysis, from 1 minute to monthly charts, giving traders flexibility in their trading strategies.
Technical Analysis: It includes a comprehensive set of technical analysis tools and indicators for chart analysis. Traders can also add custom indicators and scripts.
Fundamental Analysis: MT5 provides access to economic calendars, news feeds, and other tools for fundamental analysis, helping traders stay informed about market events.
Algorithmic Trading: MT5 supports automated trading through Expert Advisors (EAs), which are custom-built trading robots that execute trades based on predefined rules. It uses the MQL5 programming language for creating EAs.
Multiple Order Types: Traders can place various order types, including market orders, limit orders, stop orders, and trailing stops.
Market Depth: MT5 offers a market depth feature, also known as Level II pricing, which shows the current order book for a particular asset, providing insights into liquidity and order flow.
Mobile Trading: There are mobile versions of MT5 available for both iOS and Android devices, allowing traders to stay connected and manage their positions on the go.
Multi-Currency Support: MT5 accounts can be denominated in different currencies, making it convenient for traders from around the world.
Security: The platform uses advanced encryption and security measures to protect user data and transactions.
Community and Marketplace: Traders can access the MetaTrader 5 community and marketplace to find custom indicators, EAs, and trading strategies shared by other users.
Backtesting: Traders can backtest their trading strategies using historical data to evaluate their performance before deploying them in live markets.
Multi-Asset Testing: Unlike MT4, MT5 allows testing and trading of multiple asset classes in a single platform.
It's important to note that brokers may offer their own versions of the MetaTrader 5 platform with additional features or customizations. Traders can choose a broker that supports MT5 and provides the assets and features they require for their trading activities.
Related Articles:
Most Popular Technical Indicator For mt4 Platform