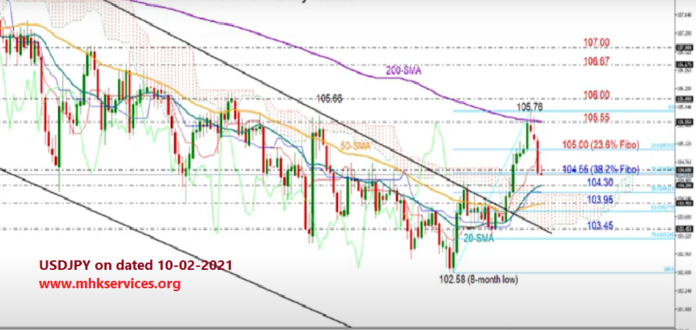 The US dollar fluctuated in a narrow range that tilted higher during the Asian session against the Japanese yen, following the developments and economic data that it adopted earlier this week from the Japanese economy and amid the scarcity of economic data on Monday by the American economy due to the Presidents Day holiday in the United States.
At exactly 06:06 AM GMT, the US dollar pair rose against the Japanese yen by 0.05% to 109.84 levels compared to the opening levels at 109.77, after the pair achieved its highest level during the trading session at 109.88, while achieving the lowest at 109.72.
We have followed, on the Japanese economy, the disclosure of the seasonally adjusted preliminary reading of GDP, which showed a contraction of 1.6% compared to 0.4% growth in the third quarter, worse than the expectations that indicated a contraction of 1.0%, while the seasonally adjusted preliminary annual reading of the same index measured by prices showed an acceleration Growth to 1.3% vs. 0.6%, outperforming expectations at 1.1%.
In the same context, we have also followed by the third largest economy in the world and the third largest industrialized country globally after both the United States and China, the disclosure of industrial sector data with the release of the final reading of industrial production, which showed a rise of 1.2% compared to the previous initial reading for the month of December / December and expectations are at 1.3% and compared to a decline of 1.0% last November.
It is noteworthy that the Japanese Minister of Economy, Yashutoshi Nishimura, noted last Friday that he expected his country's economy to slow during the last quarter of 2019 and to be less than it was in the last third quarter, while postponing the matter until the Japanese government increased taxes in addition to the typhoon that struck Japan recently, and touched on Also at the time, the recent outbreak of Corona virus in China would harm Japan's economic growth during the first quarter of this year.
The dollar versus the yen did not show any strong movement in the previous sessions, to continue fluctuating around the EMA50, and therefore, there is no change in the bullish trend scenario that depends on holding above 109.33, supported by the positive signal provided by the stochastic, while recalling that our next main target It is located at 110.50.
The expected trading range for today is between 109.30 support and 110.50 resistance.
Expected trend for today: bullish.
Join on Telegram
HERE